From 2015-2016, I was the Communications Director for a church near Columbia, SC. I was responsible for managing our various communication channels. Additionally, I oversaw our brand image and took numerous steps to help clarify our messaging and identity.
One of the first projects I undertook was to update the church's logo and brand appearance. We explored creating an entirely new look for the brand, but, for many practical reasons, we decided to focus on refreshing their current logo and bringing it into the 21st century. 
I selected a sans-serif font that communicated the personality of the church well, and I refined the icon to be cleaner and simpler. Additionally, I began an initiative to create consistency in how people talked about the church. Among staff members and congregants, there were a variety of names and acronyms that people would use: TBC, Trinity Baptist, Trinity Baptist Church, Trinity, Trinity Baptist Church in Cayce, SC. 
Moving forward, I proposed we begin calling the church "TBC Cayce", with an extended "Trinity Baptist Church Cayce" usage being acceptable as well. This new name was concise and clarifying, and it was quickly adopted by our team.
To help get all of our volunteers and staff members on the same page with the updated brand name and logo, I created a short brand style guide that people could print out or use digitally.
Redesigning the Church Newsletter
​​​​​​​
One of the church's long-standing traditions was a monthly printed newsletter called the Trumpet. This newsletter kept donors and congregants in the loop about what was happening in the life of the church community. Before I arrived on staff, the church was creating a simple, mostly plain-text newsletter that was printed in-house. The newsletter had become an after-thought over the years, but they kept publishing it because people wanted it.
When I came on as the designer and communications director, I put together a proposal to reimagine the monthly newsletter. I saw great potential for it to become one of the church's strongest and highest quality communication channels. After my proposal was approved, I transformed the newsletter into a full-color mini-magazine. I outsourced the printing so that we could have a higher quality end-product, and I became the editorial director and lead designer for the monthly publication.
The church loved my work on the newsletter so much that they became on of my clients after I left my position with them in 2016 and transitioned to full-time self-employment. I have produced many issues of their newsletter since.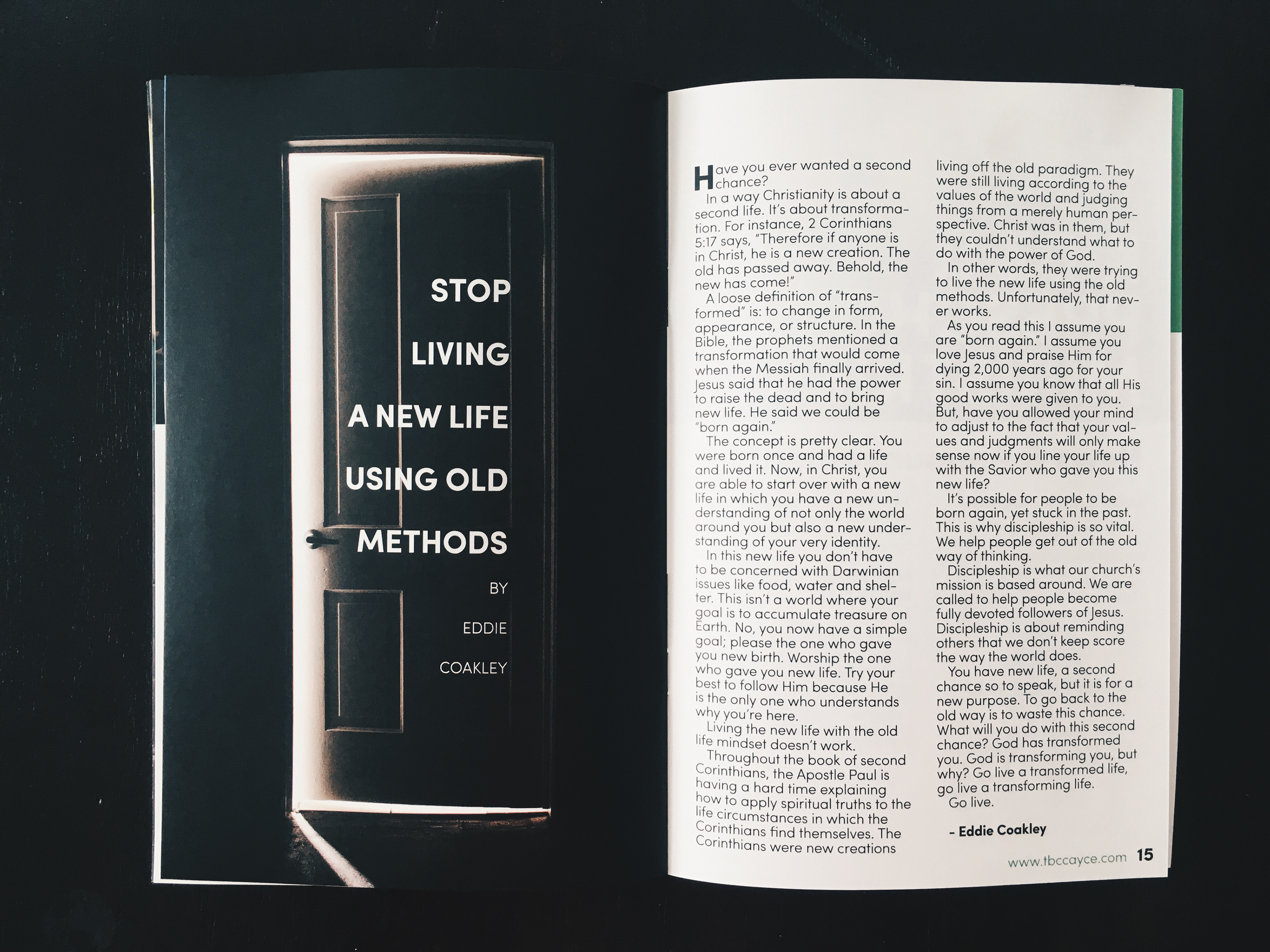 One of the other major projects I undertook was a redesign of the church's website. A website is one of the most crucial pieces in the new visitor funnel for a church, and I saw that the old website was not very effective in attracting new guests. 
Over the course of two months, I completely redesigned the site to focus on providing new visitors with the information they needed. I photographed the church building and various church events myself so that the website would be highly visual. I also made it into a responsive-design site so that it would be user-friendly on every kind of digital device.
The old website lacked photos of people and the church, so it came across as impersonal and generic. It was not mobile-friendly, and the content lacked organization and purpose.
​​​​​​​
Staff Photos
​​​​​​​
When I was redesigning the church's website, I wanted to make it more inviting and personal. One of the things I did to accomplish this was to add staff photos. Over the course of a few days, I set up a makeshift photo studio in one of the hallways in the church and took some simple headshots.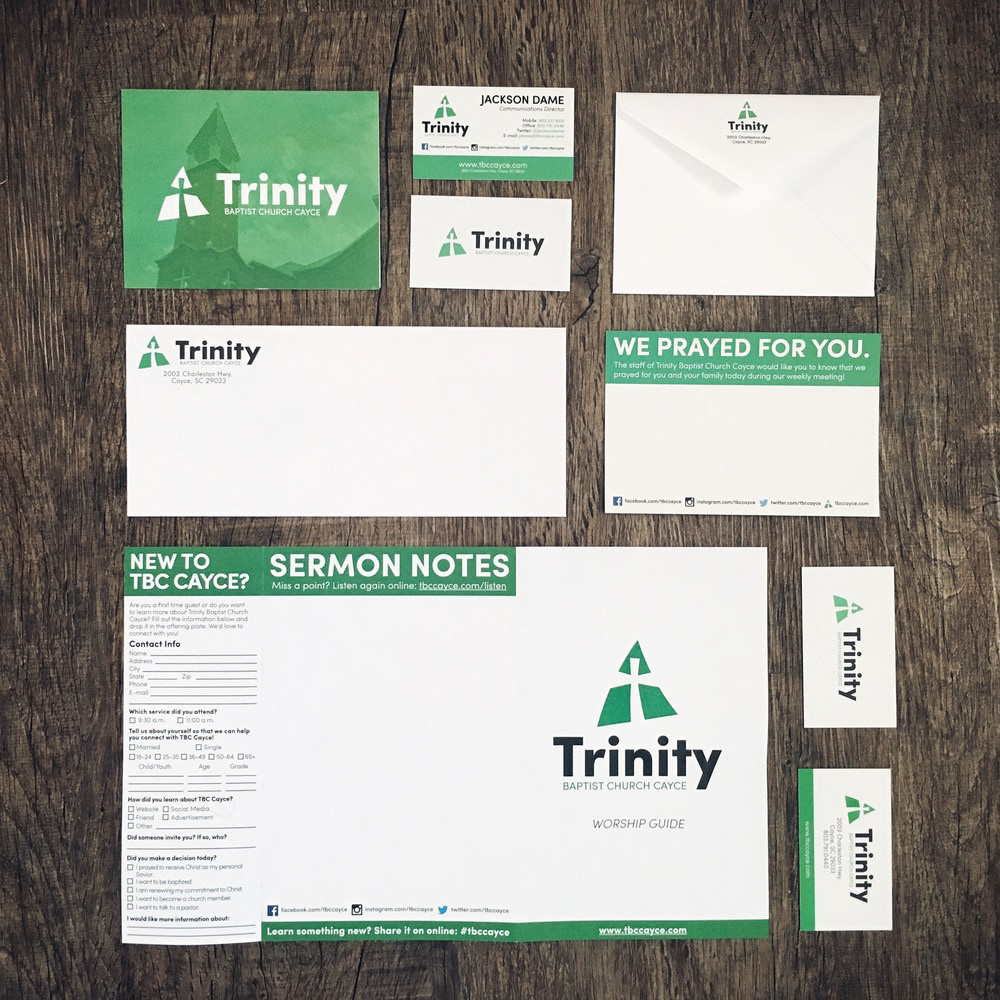 As part of my rebranding efforts, I completely redesigned our print material to reflect the new logo. I gave our printed communication channels a highly professional and consistent look
The church bulletin is one of the most important communication channels in any church. Before I arrived on staff, the church was doing the best it could with a template they made in Microsoft Word. In addition to redesigning the cover and exterior of the bulletin, I updated the interior layout to be cleaner, better organized, and more effective in driving our communication goals.
I have a wide skill-set beyond graphic design, and I bring that skill-set with me to every position I hold. Photography is one such skill that greatly benefited the church while I was on staff there.I shot custom images for the website redesign, and I documented church events and community projects on a regular basis. My work in this area gave the church a robust library of professional photos to use for years to come. Below are some examples of my work.